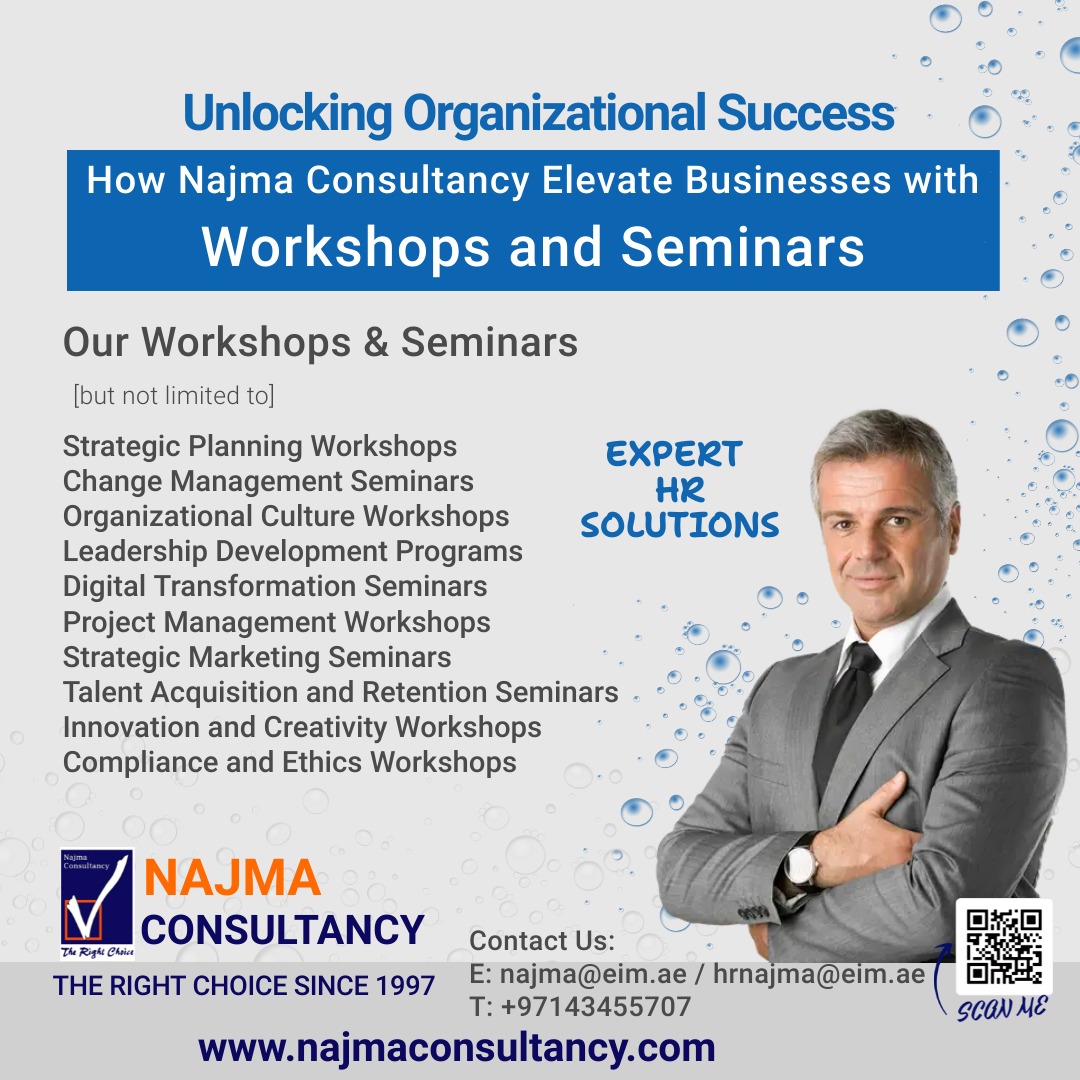 Elevate Businesses with Workshops and Seminars
Unlocking Organizational Success:
How Najma Consultancy Elevate Businesses with Workshops and Seminars
In today's dynamic and competitive business landscape, organizations face ever-evolving challenges, opportunities, and the need for continuous improvement. This is where expert consultants come into play, offering a diverse range of workshops and seminars designed to enhance an organization's capabilities and drive sustainable growth. Here, we explore Najma's various workshops and seminars (but not limited to) that we can offer to organizations and the compelling reasons why businesses choose to partner with us in each subject. These are the common workshops and seminars; however, we offer customized and modified seminar sessions as per the requirement of our treasured customers.
Strategic Planning Workshops
At the heart of every successful business is a well-thought-out strategy. Najma's strategic planning workshops empower organizations with the tools and expertise needed to set clear goals, make informed decisions, and create actionable plans.
Organizations opt for our strategic planning expertise because Najma bring a proven track record in developing successful strategic plans. We guide them through the often-complex decision-making processes, ensuring their strategies are both visionary and actionable.
Change Management Seminars
Change is inevitable, and organizations must embrace it to thrive. Najma's change management seminars provide insights, methodologies, and tools to help organizations navigate and adapt to changes effectively.
Organizations recognize our deep understanding of change management, including communication strategies, employee engagement techniques, and resistance mitigation strategies.
Organizational Culture Workshops
A strong organizational culture is the cornerstone of a motivated and engaged workforce. Najma's workshops assess and transform organizational culture to foster a positive work environment and alignment with an organization's values.
Organizations value our expertise in diagnosing and shifting culture.
Leadership Development Programs
Exceptional leaders are crucial to an organization's success. Najma's leadership development programs offer comprehensive leadership assessment, coaching, and training to develop effective leaders and executives.
Organizations choose our firm for leadership development because we offer personalized coaching and guidance. Our track record of nurturing leadership skills and fostering a culture of leadership excellence is a testament to our expertise.
Digital Transformation Seminars
In the digital age, staying competitive requires embracing technology. Najma's digital transformation seminars guide organizations in implementing technology-driven changes for growth and efficiency.
Organizations recognize our in-depth knowledge of digital transformation strategies, technology integration, and data-driven decision-making. They partner with us to leverage technology effectively in their operations.
Project Management Workshops
Successful project management is essential for achieving organizational goals. Najma's project management expertise provides methodologies and tools to ensure projects are executed successfully.
Organizations trust our extensive project management experience, which results in improved project outcomes and efficient resource utilization.
Strategic Marketing Seminars
Effective marketing is key to brand visibility and success. Najma's marketing seminars deliver marketing strategies, market analysis, and campaign planning.
Organizations select our firm for our expertise in marketing, as we help them stay competitive and achieve marketing goals with a data-driven approach. Our commitment to keeping up with the latest marketing trends sets us apart.
Talent Acquisition and Retention Seminars
Attracting and retaining top talent is essential for organizational success. Najma's seminars offer strategies for these key HR functions.
Organizations value our talent acquisition and retention expertise. We help them improve their workforce quality and human resource practices, ultimately enhancing organizational effectiveness.
Innovation and Creativity Workshops
Staying ahead of the competition requires innovation. Najma's workshops foster innovation and creativity through design thinking and ideation processes.
Organizations partner with us for our ability to encourage fresh ideas and creative problem-solving. They value our expertise in helping them navigate the complex world of innovation and adapt to changing market dynamics.
Compliance and Ethics Workshops
Legal compliance and ethical practices are crucial. Our firm offers compliance training and ethics education to ensure adherence to industry regulations and ethical standards.
Organizations engage our firm for our expertise in legal compliance and ethical practices. Najma help them reduce legal risks and enhance ethical behaviour, safeguarding their reputation and mitigating potential legal issues.
In each of these critical areas, organizations choose to work with Najma Consultancy because of our demonstrated expertise, specialized knowledge, and a track record of delivering results. We offer valuable solutions and guidance to help organizations address their specific challenges and achieve their goals effectively. As a trusted partner, we empower organizations to embrace change, foster innovation, and drive growth in an ever-evolving business landscape.
Feel free to contact us for our Workshops and Seminars on:
E: najma@eim.ae / hrnajma@eim.ae
T: +971 4 3455707
HR BLOG 13/2023